Study With Celebrity VO Talent/Teacher
Rodney Saulsberry - In LA Or At Home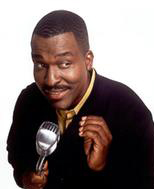 Rodney "Step Up to the Mic" Saulsberry - the dynamic national voice talent, coach and best-selling author - offers two ways to study under his direction this fall:
1) in person, at
his Sept. 20 one-day Voice-Over Intensive Workshop in Los Angeles, or
2) by phone, in his three-week Commercial Intensive Teleclass, beginning Oct. 16.
Based in Los Angeles, Saulsberry is the voice of numerous commercial campaigns (including Zatarain's Jazzman, Twix, Check N' Go, Pine Sol, Toyota Camry), trailers and promos.
He's also a vocalist and just released a hip, pulsating song, Better Than Before. It's a truly motivational piece, packed with confidence-building messages that weave throughout all of Saulsberry's teachings. Listening to the song is a great way to start - even end - every day. You can download it at www.myrecordlabel.net/rodneysaulsberry.
Step Up to the Mic is an "inspirational guide that will teach you how to take control of your mental, physical and emotional well-being with the power of positive thinking," he explains. "Turn your voice-over fears and self-doubts into confidence and success! You can carry this book with you everywhere, every day."
WORKSHOP & TELECLASS
In both the workshop and teleclass, Saulsberry
will share his expertise in auditioning, script interpretation, breathing and microphone techniques that will help you win jobs and be successful in the competitive voice-over industry.

Highlights include:
Significant time on the microphone (workshop) or by phone (teleclass) with professional direction.
Focus on commercial, promo, trailer, animation, and narration copy.
Discussing voice prompts, radio imaging, vocal exercises and (ADR) looping.
Unique marketing strategies.
Microphone and voice-over techniques.
Discussing demos, agents, unions, and the buisness of VO.

Learning how to compete for work all over the world.
The Sept. 20 workshop location is Tree Falls Studio, 3131 Cahuenga Blvd. West, Los Angeles. Tuition is $350, including lunch and a course book.
The three-week commercial teleclass will be conducted on Thursday evenings - Oct. 16, 23 and 30, from 8 to 9 p.m ET, or 5 to 6 p.m. PT. Tuition is $350.